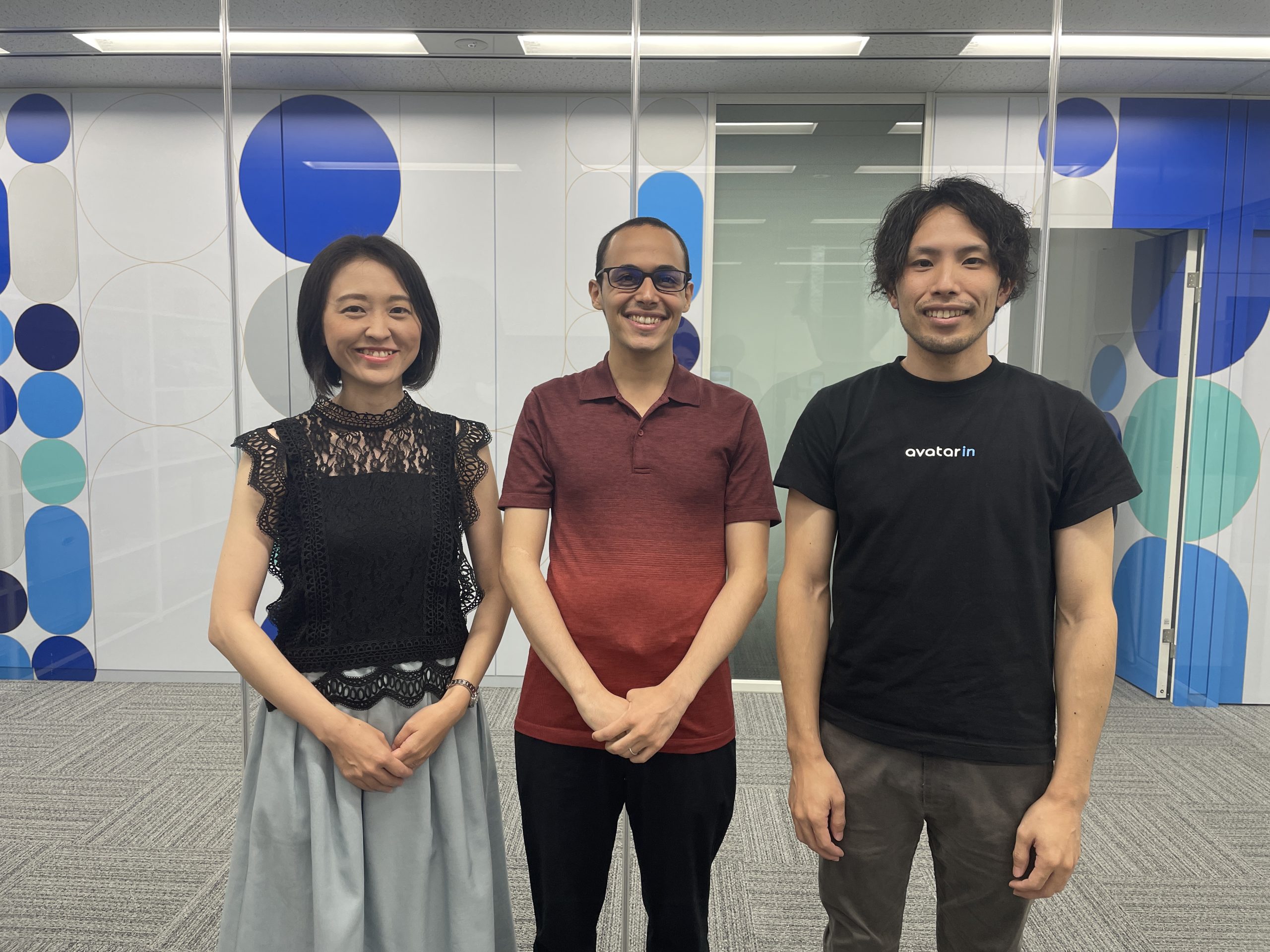 We interviewed avatarin employees about their "Life at avatarin".
At avatarin, we work together as a team with a group of individuals who have different nationalities and backgrounds. Diversity is our strength. We respect one another regardless of our differences. In this "Our Stories" series, we interviewed our members "Parental Leave Stories"!
◆What is unique about avatarin? What is your favorite 12 Be's?
S.O.(photo on the left):
avatarin has a diverse team with members from many countries, which gives us different perspectives to the table, giving us constant inspiration and keeps us motivated. Also, our workplace has a energetic vibe, making it a lively and enjoyable place to work.
My favorite of the 12 Be's is "Be fast." I find it particularly attractive because, as a startup rather than a large corporation, we can make quick decisions.
A(photo on the middle):
What I like about avatarin is the international environment. Everyone speaks English and we can communicate openly and share ideas. Also our product "newme" is unique, a very friendly robot.
My favorite 12 Be's is "Be bold". Start up companies need to take risks. Sometimes we fail but it's important to learn and improve from failure to be successful.
S.T.(photo on the right):
One thing I love about avatarin is the ability to tackle social issues through our own products. Being a part of such large-scale projects is a unique experience, and I believe in we can succeed and make a difference in the world. It's great that everyone is heading in the same direction towards this dream.
My favorite 12 Be's is "Be the TOP." It reflects our shared goal of aiming for the top globally and working together towards it.
◆ Please tell us the motivation behind taking maternity/parental leave.
S.O.:
I was a little nervous since it was my first child, but I was mostly filled with happiness. I'm glad I could work without any health issues until one month before giving birth.
Balancing work and childcare can be tough, but it's possible because of the flexible company culture and the support of my team members. I'm very grateful to everyone.
A:
Since It was my first baby, I was excited. But at the same time, this was our first time having our baby in foreign country, so I was worried about the system, how the delivery will go in the hospital but everything went well and we all shared the happiness.
S.T.:
At first, I couldn't imagine how life and my surroundings would change after having a child. I was excited to see how I would feel when I held my own child.
As I was the first case of parental leave at avatarin, the HR team helped set up the parental leave system and internal policies for me. Since my wife had to return to work soon after giving birth, we took turns taking care of the baby during my parental leave. While the baby napped, I found time to study the tools I use now and I even managed to achieve a professional qualification. It turned out to be a rewarding time during my parental leave.
◆Were there any changes that occurred before and after taking maternity/parental leave?
S.O.:
My job has changed quite a bit. I can't go on overnight business trips or go out in the evenings like I used to. On the positive side, I try to find tasks I can do like working on documents, as much as possible. Currently, I have applied to work remotely up to four days a week, and I do remote working more frequently than before.
A:
I think parenting leave was important for me to join the parenting from the first stage to take care of our child because we have no family members in Japan. I also work remotely from home for a few days a week, but it's difficult to focus. So I work more at night and when I come to work at the office I try to work longer. We get sleepless so I try my best to adapt to the environmental changes.
S.T.:
During the first month of taking parental leave, I spent my days taking care of my child. This allowed me to gradually learn things like changing diapers, which I didn't know how to do before. Also, spending a lot of time together made me start to understand why my child was crying, like when they might be hungry.
As for work, I created a handover sheet for my tasks and mostly asked others to handle my work. Since my other team members were doing my job, it also became an opportunity for them to understand what each of us was working on.
◆Please tell us what is important to you when you work and communicate with people.
S.T.:
When it comes to communication, I try to speak in clear and understandable language while considering the other person's perspective and position. When I directly use the engineer team's terminology with the business team, it can be confusing because we have different common languages. Therefore, I try to rephrase it into words that the business team can understand, or translate what the business team says into simpler language for the engineer team. I also adjust my words based on what each person knows and understands. I hope this helps us understand each other better and connect the two teams.
A:
It is Important to share high level values. We may disagree with the ideas but to have some value that we share is important. Otherwise, we will get into a fight and everyone will start forcing their ideas. But it doesn't mean that we have to agree on everything. We can disagree but we need to share the high level values to easily speak and share ideas with each other. I think you can say the same thing in communication with families and friends.
S.O.:
When we talk, I try to think about what the other person thinks and not just stick to my own ideas or my team's way of thinking when we talk. Also, I believe it's important to listen to the other person before I start talking.